Online pharmacy with delivery
Choose a pharmacy to get a coupon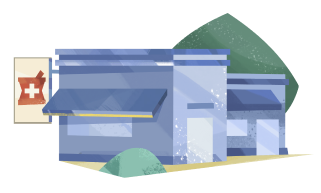 Pay less
with Drugsler.
Get your coupon
Anti-inflammatories are non-hormonal drugs (non-steroidal) that doctors often prescribe to suppress various inflammatory reactions in the body.
One of the first drugs that appeared on the market and refers to NSAIDs is regular aspirin or acetylsalicylic acid. They are very popular with doctors, as they have antipyretic, antirheumatic and analgesic properties. Such drugs quickly reduce the process of inflammation which reduces joint pain caused by arthritis or arthrosis, as well as back pain caused by diseases of the spine.
However, such drugs have many prohibitions to the use and with prolonged use they can lead to serious side effects. Nonsteroidal anti-inflammatories should not be taken with duodenal ulcers and stomach ulcers, with gastritis or ulcerative colitis. If necessary, doctors can recommend patients with gastrointestinal diseases to take anti-inflammatories in the form of rectal suppositories. Such drugs have a more gentle effect on the small intestine and stomach than tablets. But candles are contraindicated in diseases of the rectum polyps, cracks or hemorrhoids.
With caution, taking anti-inflammatories is necessary for those people who have kidney and liver diseases. It is also forbidden to take such drugs with intolerance to the medication. Do not forget about the side effects that can occur when taking medications: drowsiness, headache, dizziness, nausea, etc.
While taking anti-inflammatories, it is recommended that you follow certain rules:
• Always read the instructions carefully before taking medication and follow the dosage;
• Take a pill with a large amount of water to prevent irritation of the gastric mucosa;
• After taking medication, do not lie down for half an hour;
• Do not use anti-inflammatories with alcohol - this increases the risk of developing gastric diseases;
• These drugs are strictly contraindicated in pregnancy;
• Do not take two different anti-inflammatories in one day - there may be side effects;
• If you do not notice improvement after taking the drug, change it to a similar one.
But when changing the drug, you need to take into account one feature. If you change Diclofenac to Orthophene or Voltaren, then you will not notice any changes. The same will happen if you change Methindole to Ibuproen. All these preparations have the same composition. Their difference is that they are produced by different brands.
To choose the right medicine, pay attention to the active substance. Of course, there are exceptions when a drug of one firm helps and the same drug of another firm causes various side effects. The whole thing can be in dosage or fillers. Sometimes in the filler there is a substance that your body does not perceive well. But the composition of fillers in each firm is individual.
On the dosage should be said separately. Very often people do not pay attention to it. You can take Diclofenac three times a day in a dose of 25 mg. The effect of it will be small. But if you switch to a dosage of 100 mg, then one tablet will be enough for the whole day. Many firms produce long-acting drugs. The peculiarity of this drug is that it is absorbed from the stomach into the intestine gradually and not immediately and its effect is distributed throughout the day.
Pharmacological companies a couple of decades ago began to develop drugs that would relieve pain and inflammation but at the same time had a minimum of side effects. As a result, a group of drugs was obtained that were called selective anti-inflammatories. Such drugs are much less likely to cause any side effects: they do not cause complications or adversely affect the structure of the articular cartilage. The advantage of selective anti-inflammatories is that they can be taken for a long time - from several weeks to several years. But this is done only under the strict supervision of a doctor.