Online pharmacy with delivery
Choose a pharmacy to get a coupon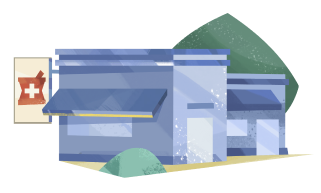 Pay less
with Drugsler.
Get your coupon
How often do you suffer from pain? Pain indicates about any disease or disorders in our bodies. Almost all patients who ever seek the help of physicians report pain of a different nature. It should be understood that the pain is not a disease it is only a symptom. So to get rid of the pain it is necessary to treat the disease because of which it was manifested. These drugs usually have no side effects but they affect other organs.
For example in tonsillitis people experience sore throat. After consumption of antibiotics tonsillitis passes away and thus passes pain. Yet sometimes it also happens that the pain should be removed and for this purpose it is recommended to use analgesics. Analgesics are a medication that is able to suppress the pain sensitivity without sleep disorders.
The most common analgesics are non-steroidal anti-inflammatory drugs. They are taken if patients experience weak or average pain intensity in joints, in muscles, toothache, headache, neuralgic pain. But when there is a pain in abdominal organs (caused by smooth muscle spasm) then these analgesics are not effective.
All NSAIDs are characterized by such features: anti-inflammatory, antipyretic and analgesic effect. However, they are different and differ in strength.
In such cases as: a toothache, headache, muscle pain (myalgia), neuralgia and easy post-operative pain, traumatic pain will be effective drugs with stronger analgesic effect.
Analgesics relieve pain in twenty to forty minutes after taking (tablets). Syrups, effervescent tablets can relieve pain in ten to fifteen minutes. If you are prescribed the drug in the form of injections then it is necessary to remember that after the procedure you need to lie in a warm place. It would be better to take any medication after a meal or rather after an hour or two after eating.
Despite the fact that NSAIDs are widely used today they have a lot of side effects. Ulcerogenic side effect occurs more often. It is connected with the fact that the analgesic irritates lining of the stomach. People with high acidity of the stomach, gastritis and ulcers cannot take painkillers of salicylic group because they consist of acetylsalicylic acid.
The consumption of NSAIDs may have a different effect on the body, there may be mental and neurological disorders (drowsiness, depression, dizziness), may inhibit the blood formation. Also toxic NSAIDs may affect the kidneys, liver, provoke allergic reactions (bronchospasm, angioedema, skin reactions). If you are going to take the drug for the first time you should be especially careful. If you have a tendency to allergic reactions then make a test: one-fifth of the tablet for the first application will be enough. Before applying the gel is also necessary to make a test. A small amount of it should be applied to the detection area - behind the ear or in the elbow bend. If within fifteen to twenty minutes, the skin at that place blush it means that you should not use this drug in the future.
The other group is narcotic analgesics. They are commonly used in the case of very serious diseases such as: for pain relief in the last stages of cancers, last degree burns, very serious injuries (e.g. spinal or multiple bone fractures). These drugs are only prescribed by a doctor. People cannot buy them without prescriptions because they have a lot of side effects including addiction. When opioid substances enter the body with narcotic drugs then the body cannot produce them already so the dosage should be increased each time. Since the treatment of such diseases lasts during a long time the body begins to get used to him, and besides. Sometimes it is easier to cure the disease than to cure narcotic addiction. That is why these drugs are not sold without prescriptions.
Those analgesics which you can buy without prescriptions are almost harmless to the body. But if the pain is regular then visit a doctor to determine the cause of permanent pain and to start the treatment to get rid of disease and pain.