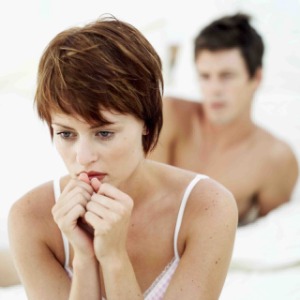 How can a woman help a man with erectile dysfunction? According to TV commercials, everything is very simple. If your loved one has problems with erection he just need to take a wonderful pill — and the problems disappears! The next scene shows a happy woman's face on a shoulder of her man. Happy end. Unfortunately, in real life everything is not so easy and trouble-free. These ads will never show sad, frustrated and confused face of a woman if her lover has erectile dysfunction.
Women often conceal their true emotions and feel uncomfortable experiencing unpleasant situations, although they do not show this. They either blame themselves for everything, suspecting the cause of a sexual disorder is in their behavior, or believing that they have lost their charm in the eyes of their partner. "This is my fault" — this is the first thought that passes through the woman's excited consciousness when her partner cannot achieve an erection. Meanwhile, this assumption has nothing to do with the truth! Instead we should ask ourselves a question: "what can a woman do to help with erectile dysfunction?"
The term "erectile dysfunction" in medicine is used to denote an inability to achieve an erection or to maintain this state throughout the sexual intercourse. Almost all men sooner or later, at least once in their life, face a similar problem. Erectile dysfunction can be a consequence of stress, depression, and sometimes it can be completely unreasonable. Sometimes this condition becomes permanent.
Still, many women — and men alike — continue to consider impotence as an exclusively sexual problem. In fact, the most common causes of this phenomenon are unidentified physical illnesses, in particular, diabetes, elevated cholesterol levels, or even an early stage of heart disease. Often impotence is a consequence or an adverse effect of taking certain medicines that are used in the treatment of these diseases, in particular some drugs for hypertension. How to deal with erectile dysfunction as a woman? There are a few main tactics.
Ignorance about the real causes of male impotence often causes women to feel guilty, as well as confusion, panic, and sometimes even annoyance and anger. But a woman can help treat erectile dysfunction of her lover.
As a rule, when faced with men's sexual inability, women feel humiliated and insulted and ask her partner a lot of questions. Yes, a woman might suspect that her beloved has a mistress, or that he lost sexual interest in her. And these insulting hints only worsen the already unvarnished position of her boyfriend or husband.
In this situation, the man often interprets these questions — and the rude tone that with which they were asked — as attack and involuntarily shuts himself off.
Ultimately, this misunderstanding can turn into a real conflict, and the couple will stop communicate with each other — and not only in bed. Naturally, it is unlikely to help solve the problem of impotence and can lead to a crisis of relations.
The only thing a woman should never do in such a delicate situation is to pretend that nothing has happened. That's the right way to ruin the relationship. Concealing problems can lead to catastrophic consequences — first, the couple ceases to talk about sex and then ceases to speak at all and find themselves trapped in the trap of excessive caution or delicacy.
If ignoring is a useless tactics, then excessive persistence will hardly give the desired result. No need to fall into extreme. Some women believe that everything can be fixed if they put a little more effort to excite the partner. This tactic is not only ineffective, but also harmful as it can worsen the situation.
So how a woman can help a man with erectile dysfunction? According to experts, the most important thing is to remember that male impotence is not related to a woman. And in no case should men's failure be attributed to his partner. Understanding woman should overcome the psychological barrier, recognize existence of the problem and discuss it openly with the partner.
It is best to discuss sexual problems outside the bedroom, not immediately after an unsuccessful sex act, but a few days or even weeks later. It is also recommended to talk with a partner about possible illnesses that can cause impotence, and unobtrusively invite him to visit a physician.
Depending on the cause of erectile dysfunction, treatment can be rapid (for example, a man takes Viagra and gets healed) or prolonged (e.g., treatment of hypertension). It is possible that a woman will have to spend a lot of time only to persuade a man to seek medical advice. A qualified specialist is able to choose the best treatment option. If the physician recommends using Viagra, or any other ED pill, the patient can buy these medicines in a drugstore, or order them in Spain online pharmacies.
The main thing — in no case you tell the lover that his impotence does not matter to you. Instead, experts recommend using this failure for your own benefit. Try sexual experiments and new ways to satisfy each other even if sex is not yet possible.
Many women are accustomed to the fact that the initiator of sexual intimacy is a man. Maybe it's time to change roles?
Women and erectile dysfunction —these two notions seem to be unrelated. But a woman is a great helper in the treatment of the problem. She should in no case stop emotional communication with her partner, even if the couple will have to stop sexual relationships for a while.